Time to Reflect
2017 Echoes and Reflections Advanced Seminar at Yad Vashem
Jill Dragiff has spent the past five years engaging with Echoes and Reflections through its online courses and webinars. After receiving an invitation to apply to the Echoes and Reflections Advanced Seminar at Yad Vashem and gain the opportunity to meet some of the experts behind this Holocaust education program, she immediately applied.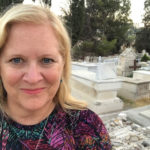 "The description of this program sounded like something I could only dream of being able to do… I was really hoping to learn how Echoes and Reflections works to extend the mission of Yad Vashem. I hoped to meet other educators who were as passionate as I am about Holocaust education and to learn from their perspectives and experiences," said Dragiff.
When reflecting on why she is motivated to teach about the Holocaust, Dragiff recalls the impact of learning about the event during her youth and hearing directly from survivors over the years, "I think about how deeply I was affected learning about their disrupted lives when I was a teenager and wishing I could have done something to prevent the Holocaust. Now that these survivors are reaching the end of their lives, I have a growing urgency to teach students more and to understand how to translate this horrific event in history to a generation who may increasingly feel removed from its reality."
Dragiff believes that by teaching the lessons of the Holocaust she can fight intolerance and foster increased levels of empathy among younger generations. Dragiff is committed to using Echoes and Reflections as her guide to teach about the Holocaust as she feels the program utilizes an effective pedagogy and has helped her to understand key areas of emphasis such as art's role in Holocaust instruction and the History of antisemitism.
Dragiff's time at Yad Vashem gave her a sense of re-commitment to continuing to teach about the Holocaust and she believes it is her duty to return to her classroom and "carry the flame of remembrance for those who could not speak for themselves." Dragiff was inspired by how the sessions consistently gave her the time to reflect on how students absorb the material, which she believes will make her teaching more effective and give her students' a deeper connection to the Holocaust.
Additionally, Dragiff was moved by how the Advanced Seminar highlighted the resilience and valor of the human spirit, rather than solely focusing on the grim aspects of the Holocaust. "If we concentrate on teaching our students about the life of individuals, families, communities – their hopes and dreams as well as their life experiences – we will remember them as people and not numbers," said Dragiff.
Jill Dragiff is a social studies teacher at Christ Church's Academy in Jacksonville, FL.