Creating Critical Thinkers and Action Takers
2017 Charlotte and Jacques Wolf Educators Conference on Echoes and Reflections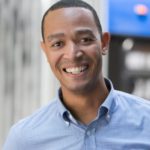 Tyrone Shaw was just beginning his career in education when he first attended the Charlotte and Jacques Wolf Educators Conference on Echoes and Reflections in the summer of 2010 as a preservice teacher at Syracuse University. Reflecting on his experience in 2010, Tyrone shared that he learned a tremendous amount about the Holocaust and best practices for teaching about this difficult topic.
He returned this year for the 10th Annual Wolf Conference with an expectation of refreshing his pedagogy for teaching about the Holocaust and learning about new strategies from colleagues, but gained so much more.
The conference exceeded Shaw's expectations and gave him a renewed sense of purpose when teaching about the Holocaust. New program sessions and speakers armed him with the information and tools to teach about specific topics and make connections to contemporary issues for his students. After presentations by Yad Vashem's Sheryl Ochayon on Women in the Holocaust, Dr. Deborah Dwork on the experiences of children in the ghettos and camps, and a workshop on Jewish refugees during the Holocaust, Shaw was inspired to begin incorporating these topics into his Holocaust lessons this year.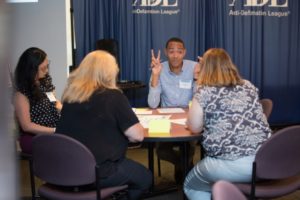 These additions to his Holocaust lessons will help Shaw's students become informed critical thinkers and action takers. What motivates Shaw to teach about the Holocaust? "I want my students to understand what injustice looks like, and the signs that indicate it is happening so they can name it when they see it happening around them," he said.
Tyrone Shaw is a World History and AP World History teacher at McKinley Technology High School in Washington, DC where he also teaches an elective course focused on Social Justice, and Holocaust and Genocide Studies.