Partner Spotlight: Hanukkah Resources from Yad Vashem – Finding Light in Darkness
Echoes and Reflections Partners: The Anti-Defamation League, USC Shoah Foundation – The Institute for Visual History and Education, and Yad Vashem, are involved in cutting edge research, programs and strategic thinking in the area of Holocaust studies. The Partner Spotlight highlights events, resources and opportunities being offered by Echoes and Reflections Partners that support educators.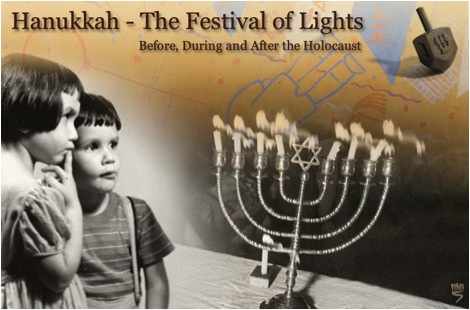 Tuesday December 16, 2015 marked the start of the 8-day celebration of the Jewish holiday Hanukkah: The Festival of Lights. Hanukkah recounts the story of the Maccabees, their fight for religious freedom, and ultimately their success in freeing themselves from Greek oppression. Their victory enabled the Jews to rededicate their desecrated Holy Temple in Jerusalem and rekindle its eternal flame. The miracle of Hanukkah is that, despite a lack of oil, the flame burned for 8 days, which emphasizes the symbolism of the holiday as moving from oppression to freedom, from darkness to light.
For those living under Nazi oppression in ghettos and camps, observing Jewish holidays was a form of spiritual resistance. In Lesson 6: Jewish Resistance, spiritual resistance is defined as, "Acts of opposition that originated or found their expression in culture, traditions and the human spirit to undermine Nazi power and inspire hope among the persecuted Jews." Shani Lourie from Yad Vashem states, "The miracle of Hanukkah, with its battle and victory, enabled the Jews to express their hope for a better future amidst their own struggles. In some cases, Jews risked a great deal for an opportunity to observe the festival."
Yad Vashem hosts a wealth of resources that provide examples of specific ways Jews utilized Hanukkah to engage in spiritual resistance and inspire hope among each other. The Yad Vashem Hanukkah exhibition highlights photos from before, during, and after the war. In addition, educators have access to a collection of artifacts along with stories from the families they belonged to. A number of survivors are also highlighted in this portion of the Hanukkah exhibition, and they discuss their memories of observing Hanukkah during the Holocaust. More information and resources for Jewish religious traditions and observance is available at Yad Vashem.
Lourie contributes a testimony from a Jewish prisoner in the Nidrashal camp who, after sneaking oil and stripping threads from his blanket, manages to make Hanukkah Candles: "It was as if before our very eyes we saw our homes, our parents, our brothers, our sisters, our wives, and our children gathered around the beautiful silver Hanukkah Menorah happily singing Maoz Zur (Rock of Ages). Tears ran down our sunken cheeks. Afterwards each of the inmates in the room sat deep in thought on his bunk or near my bunk. For a moment it seemed as if nothing else was important to us. We had celebrated the first night of Hanukkah as we had in all the years prior to our incarceration and torment. We were a group of Jews observing commandments and dreaming of our homes and years gone by."
Lighting Hanukkah candles reminds us to see the light in the world and in one another. Retelling the story of a small group of highly dedicated people who were able to earn freedom for themselves and their community reminded Jews during the Holocaust that despite the odds, it was possible to overcome their circumstances. Today, this symbolism continues to be relevant for students and teachers alike. It reminds us all that there is still action to be taken in the world and that we can make a difference.