Echoes and Reflections Offers an Online Introduction to Holocaust Education
On December 3, 2014, Echoes and Reflections offered its first two-part professional learning webinar. As part of a new initiative to provide alternative training programs for educators, the webinar familiarized participants with program content and pedagogy.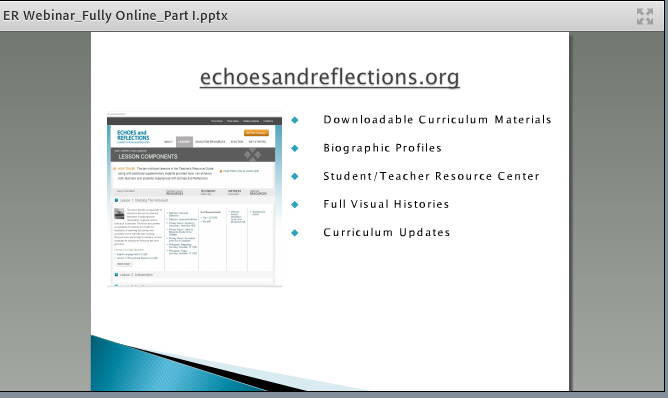 Brandon Haas and Lesly Culp, of the USC Shoah Foundation team, working on behalf of the Echoes and Reflections partnership, facilitated an in-depth look at the program's resources, the value of visual history testimony, and highlighted how Echoes and Reflections materials and instructional strategies address Common Core State Standards.
A diverse group of thirty-three educators joined from across the country. IWitness users and teachers of a variety of subjects, from psychology, to anthropology, to social studies, represented a range of experience, from those who have taught the Holocaust for thirty years to those who have never taught it before.
Part One focused on engaging educators with best practices, the content of the Echoes and Reflections Teacher's Resource Guide, and an array of multimedia components that are selected and integrated with each lesson. Haas prompted participants to discuss the question, "What challenges have you had with teaching the Holocaust?" Responses included time constraints and concern over students engaging in a meaningful way with this material. Several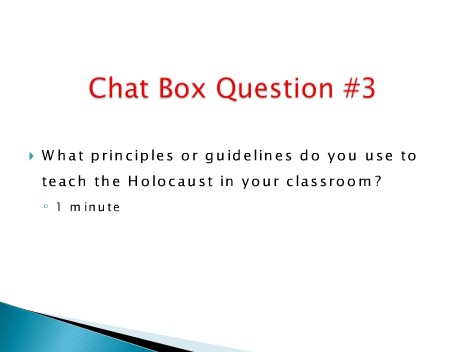 educators emphasized the importance of Holocaust education as a vehicle through which they inspire students to engage with the world, resist being bystanders, and speak up for what they believe. Haas refers to the use of testimony and says, "We have to look at the individual stories… that is when students really start to learn a little bit deeper."
Educators completed Part Two at their own pace, exploring a lesson, reflecting on what they learned, and engaging in web-based discussions. Part Two also included strategies for integrating visual history testimonies and IWitness.
Upon completion, participants received a copy of the Teacher's Resource Guide. Look for more alternative training opportunities as well as face-to-face professional learning programs from Echoes and Reflections in 2015!