Presenting Echoes and Reflections at SXSWedu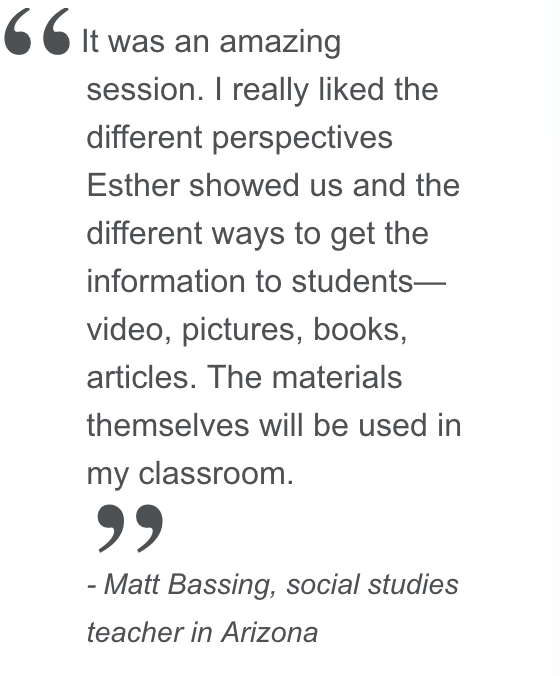 Echoes and Reflections is honored to be one of the organizations selected to provide an in-depth instructional session at the internationally renowned SXSWedu Conference & Festival 2017, in Austin, Texas. Held March 6-9, 2017, SXSWedu draws thousands of participants and leaders in education for four days of in-depth workshops and engaging learning experiences.
Jillian Bontke, Education Director at the Anti-Defamation League in Austin, worked to ensure the organization was represented at SXSWedu this year. "It is a festival that fosters innovation in learning across a variety of backgrounds in education," Bontke shared. "Providing an Echoes and Reflections session at SXSWedu allows us to reach educators who deeply value high levels of student engagement and innovation."
"It was great to be among forward thinkers that place students as the focus, and to really think about how we can encourage student learning in interactive and engaging ways," added Esther Hurh, Echoes and Reflections facilitator, who delivered a two-hour introduction to teaching about the Holocaust at SXSWedu on Monday March 6th.  Hurh introduced participants to sound pedagogy for teaching about the Holocaust through the exploration of visual testimony and other primary source materials available in Echoes and Reflections including, photographs, poetry, diaries, and memoir.
Guest speaker Angela Hartman, a public-school librarian outside of Austin, opened the session with a personal discussion about the ways she has used Echoes and Reflections to enrich the study of the Holocaust in her schools. Highlighting strategies for connecting students to primary sources, teaching the human story of the Holocaust using survivor testimony, and positioning herself as a resource for colleagues that need support in teaching Holocaust literature and/or history, Hartman shared her time-tested strategies for creating meaningful connections and deepening understanding of this complex history.
She shared that much of her focus has been to create opportunities to enrich student understanding of the Holocaust. "The importance for me is that these experiences oftentimes create a climate of curiosity where students want to learn more… the experiences lead to important conversations about human behavior and about what is happening in our world today."
Echoes and Reflections looks forward to continued participation in the SXSWedu conference.