Which Story Will Be Yours? – 2017 Holocaust Art and Writing Contest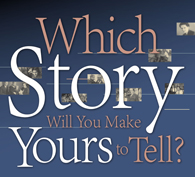 "I'm a fan, I really am," says Laura Silver, 8th grade language arts teacher at Thurston Middle School in Laguna Beach, California. This will be her eighth year participating in the Holocaust Art and Writing Contest organized by Chapman University and The 1939 Society. "The compassion, the empathy; it is one thing to talk about these things and another to hear about them from a survivor. Echoes and Reflections provides the context for our study of the Holocaust and makes it possible to individualize the learning experience," she adds. "Leading right in to the full-length testimonies, Echoes goes hand in hand with the Holocaust Art and Writing Contest, which challenges students to make connections… It has a big impact."
The 18th Annual Holocaust Art and Writing Contest, invites students to share their creative works in response to survivor testimonies and win an award for their submissions. This year's theme, "I Have a Story to Tell" challenges participants to consider a particular story that they find meaningful about the Holocaust and asks them to explain why that story should be remembered and shared. Students are challenged to draw on their own experiences to connect with survivors' testimonies.
"What I really love," Silver explains, "Is towards the end of the unit, when my students are choosing a full-length testimony for the contest, they remember the people they met through Echoes and Reflections and choose a survivor because of everything we talked about."
"As a school, we love participating in the contest," adds Megan Enger, an 11th grade American Literature teacher at Hawthorne Math and Science Academy in California. Enger's entire department participates in the contest and has for the last seven years. She emphasizes that the workshops Chapman University offers educators prior to the contest really enhance her teaching. "The contest is different from our everyday curriculum and our students take it really seriously. They're exposed to real peoples' histories through testimony and as they watch and listen, the story of the survivor becomes part of their story. The contest is a good opportunity for students to connect to something larger and to combat some of the negativity they see in the world around them," says Enger.
Echoes and Reflections is a proud partner of the Holocaust Art and Writing Contest and offers professional development resources for participating educators. "Kids easily see the connections between issues of fairness and people being treated differently because of things that they don't control but are part of who they are: race, religion, ethnicity," adds Laura. "A recurring theme for my 8th graders, is trying to answer the question of 'why' and navigating these questions is a central theme. Using Echoes and Reflections content, we try to answer the question of why people were treated so unfairly. Why were certain people targeted? Why did people follow along? Why didn't people fight back?"
View the winners of the 2016 Holocaust Art and Writing Contest here.
Schools are invited to contribute a total of three entries. The contest areas include: art, film, prose, and poetry. Entries may be submitted beginning December 2, 2016 and must be postmarked by February 3, 2017, or digitally submitted by February 6, 2017. For more information, visit Chapman University's 18th Annual Holocaust Art and Writing Contest.