Professional Development for Staff and Trainers Focuses on Supporting Teachers
This week, fifteen Echoes and Reflections program facilitators joined Partner staff from the Anti-Defamation League (ADL), USC Shoah Foundation, and Yad Vashem, at a three-day Professional Learning Seminar.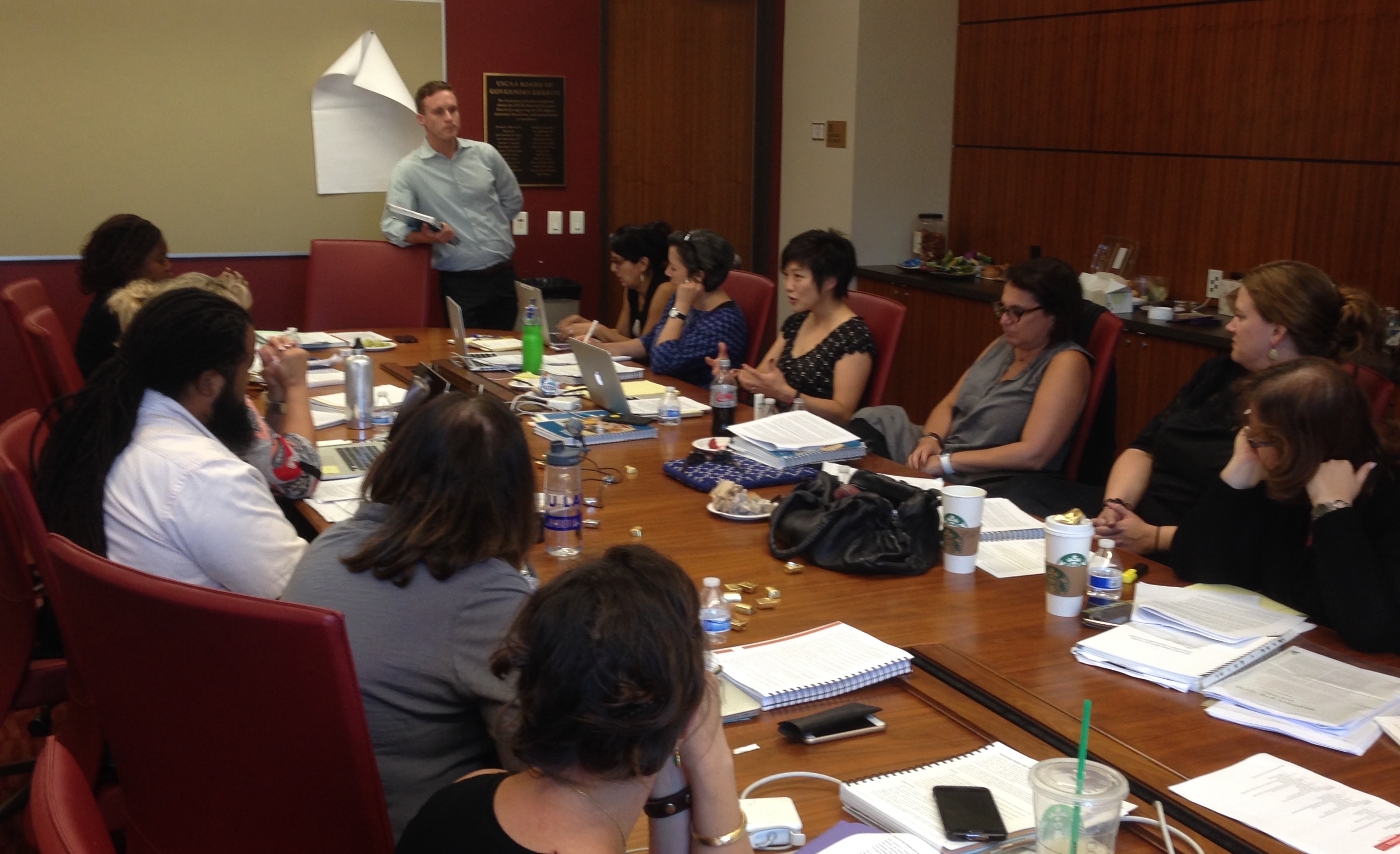 Hosted by the USC Shoah Foundation in Los Angeles, the group discussed antisemitism, its roots and modern manifestations, and delved deep into the Teacher's Resource Guide. They shared favorite assets, reviewed best practices for supporting teachers in making responsible, pedagogically sound choices, accessed new tools, and practiced delivering the best possible professional development programs for Holocaust educators nationwide.
Exploring the Longest Hatred
"Why the Jews?" Shani Lourie, Director of the Pedagogical Division of the International School for Holocaust Studies at Yad Vashem, asked as she introduced a new video tool to help educators better understand antisemitism and its historical roots. "Part of the struggle with that question," Lourie explained, "is that there is no good answer…" Rob Hadley, USC Shoah Foundation Regional Consultant from Portland, Oregon, added, "Even without a good answer, it is important to ask the question. It promotes that deep, advanced level of critical thinking that we want to see in our students."
Following this, in his session on contemporary antisemitism, David Friedman, ADL Regional Director in Washington, DC, posed the question, "If the purpose of teaching the Holocaust is to learn the history and the lessons inherent in that history, can we do it without teaching contemporary antisemitism?" Friedman spoke of recent research findings that show antisemitism, despite being the highest it has been on a global scale since World War II, is not considered a pressing issue in society today. Rather, it is considered an historical problem that culminated with the Nazis. He contends, "Antisemitism is actually the big subject, the book, of which the Holocaust is one large and terrible chapter."
Incorporating IWitness
Continuing to build educators' understanding of USC Shoah Foundation's IWitness platform and the opportunities it offers for student learning was another area of focus for the seminar.
Lesly Culp, Senior Education Specialist and Trainer, and Jenna Leventhal, Manager of IWitness, from USC Shoah Foundation, presented strategies and a framework for integrating technology and introducing visual history testimony at Echoes and Reflections professional development programs. Leventhal modeled the use of the video-editing tool in IWitness and Culp introduced a new planning approach that helps teachers and trainers organize their presentations. Jessica Gall, Education Project Director at ADL in Chicago said, "This is exactly what teachers need!"
Responding to Teachers' Needs
The group also explored emerging needs and the questions and concerns that teachers often express as they seek to deliver effective Holocaust education to students.
Regularly referring back to the planning and implementation guidelines in the Echoes and Reflections Teacher's Resource Guide, Lourie encouraged trainers to use the pedagogy as a key framework to support teachers. Considering how to help students connect with this history that may be removed from their everyday experiences, she shared, "…what we are talking about are the human choices and the human spirit. That human experience is relevant to us… It is about making meaningful connections, not comparisons." Relating further to current global events, Tabari Coleman, Education Project Director at the ADL in St. Louis, referred to page 228 of the Teacher's Resource Guide as one example of how to connect the plight of Jewish refugees with refugee experiences today.
Exploring the oft-asked query about the use of simulations to support students on an emotional level with this history, Deborah Batiste, Echoes and Reflections Project Director, reminded the group that, "We teach the Holocaust knowing the end of the story. The victims didn't… We weren't there, and the people who were living it made the best decisions they could with the information that they had." As educators, she stressed, "It is best to avoid simulation and instead introduce students to the people who were there and help them consider the types of decisions they would make if given a limited set of choices."
Participating in this Professional Learning Seminar ensures that Echoes and Reflections staff and trainers are well equipped to deliver high quality and responsive professional development programs to educators nationwide. Visit the calendar of upcoming programs to register!