What's New? Highlighting NEW Resources Featured on the Website
The new Echoes and Reflections website provides educators and their students with increased access to multifaceted and dynamic technological resources.
One exciting new page is Lesson Components. Built to compliment the Teacher's Resource Guide, this page, divided by lesson 1-10, is complete with an abundance of additional supplemental materials and references for educators looking for more in-depth information.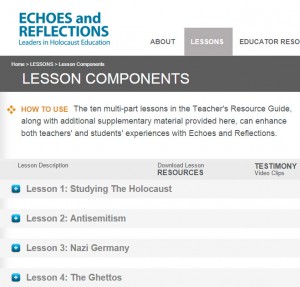 On the Lesson Components page, educators can access quick links to:
Common Core State Standards and information about how they are uniquely satisfied by each Echoes and Reflections lesson
Digital versions of the resources for each lesson including: maps, definitions, primary sources, photographs and much more
USC Shoah Foundation Visual History Testimony from survivors and other witnesses, that correspond to each lesson along with biographical information for each individual
IWitness, the USC Shoah Foundation's educational website, and corresponding online student activities for each lesson
Additional resources and supplemental assets for educators and students interested in learning more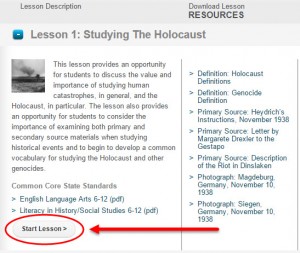 Content can be viewed online and most resources are also available to download. Lesson One provides a special opportunity for educators. Look for the 'Start Lesson' button (see left) nestled under the introductory paragraph on the left hand side of the page. This resource walks educators through step-by-step instructions to implement this lesson and offers a taste of what is available in the full Teacher's Resource Guide available at Echoes and Reflections trainings.
These new features of the website are designed to be accessible, helpful and supportive of educators looking for a meaningful, in-depth interaction with Echoes and Reflections. Let us know what you think by finding us on Facebook and Twitter or send us a message.