Exploring the Website – Articles that Support Holocaust Curriculum Planning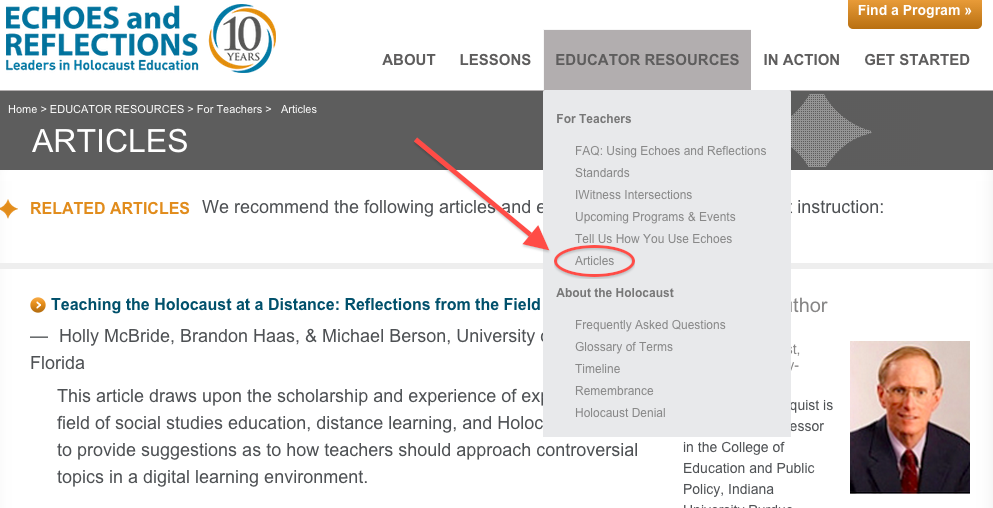 The Echoes and Reflections website hosts an abundance of helpful information for teaching the Holocaust. One such resource is the little know articles page under the Educator Resources tab, which features a number of excellent articles and essays to inform your Holocaust instruction.
In an article by Dr. David H. Lindquist, a leading Holocaust education expert and associate professor in the College of Education and Public Policy at Indiana University – Purdue University Fort Wayne, he refers to Simple Answer Syndrome: the tendency to avoid the complexity of history. He explains that many textbooks present a simplified, fact based view of historical events. "It should not be surprising that many students view the study of history as meaningless and irrelevant to their daily lives because the metadiscourse, or suggestions of judgment, points of emphasis, doubts, and uncertainty are absent in the typical textbook-driven high school history course."
As also reflected in Echoes and Reflections pedagogy, Lindquist emphasizes the importance of encouraging critical thinking and integration of meaningful, thought provoking content. "Complicate student thinking… allow students to consider historical events in increasingly sophisticated ways." Lindquist adds that his approach is, "Designed to allow students to move beyond the state of being "passive receivers of knowledge" by a) constructing critical questions and b) examining data that will allow them to consider those questions while developing an appreciation for the complexity that is central to many historical situations."
Visit the articles page to read the full text from Dr. David H. Lindquist and check out the additional recommended reading to add new dimensions to your teaching.